Back to news listing
ADENO VIRUS INFECTION – SYMPTOMS & TREATMENT METHOD
News

Recently, epidemics broke out everywhere, typically the infection of Adeno Virus in children. This makes parents with young children, especially parents whose children are already suffering from respiratory symptoms: cough, wheezing, etc., extremely worried.
What is Adenovirus Infection in Children? What should parents do to protect their children during a strong outbreak? To ease this insecurity, we would like to provide more information about the disease caused by the Adeno virus as well as solutions to protect children before the epidemic season in the article below.
What is adenovirus?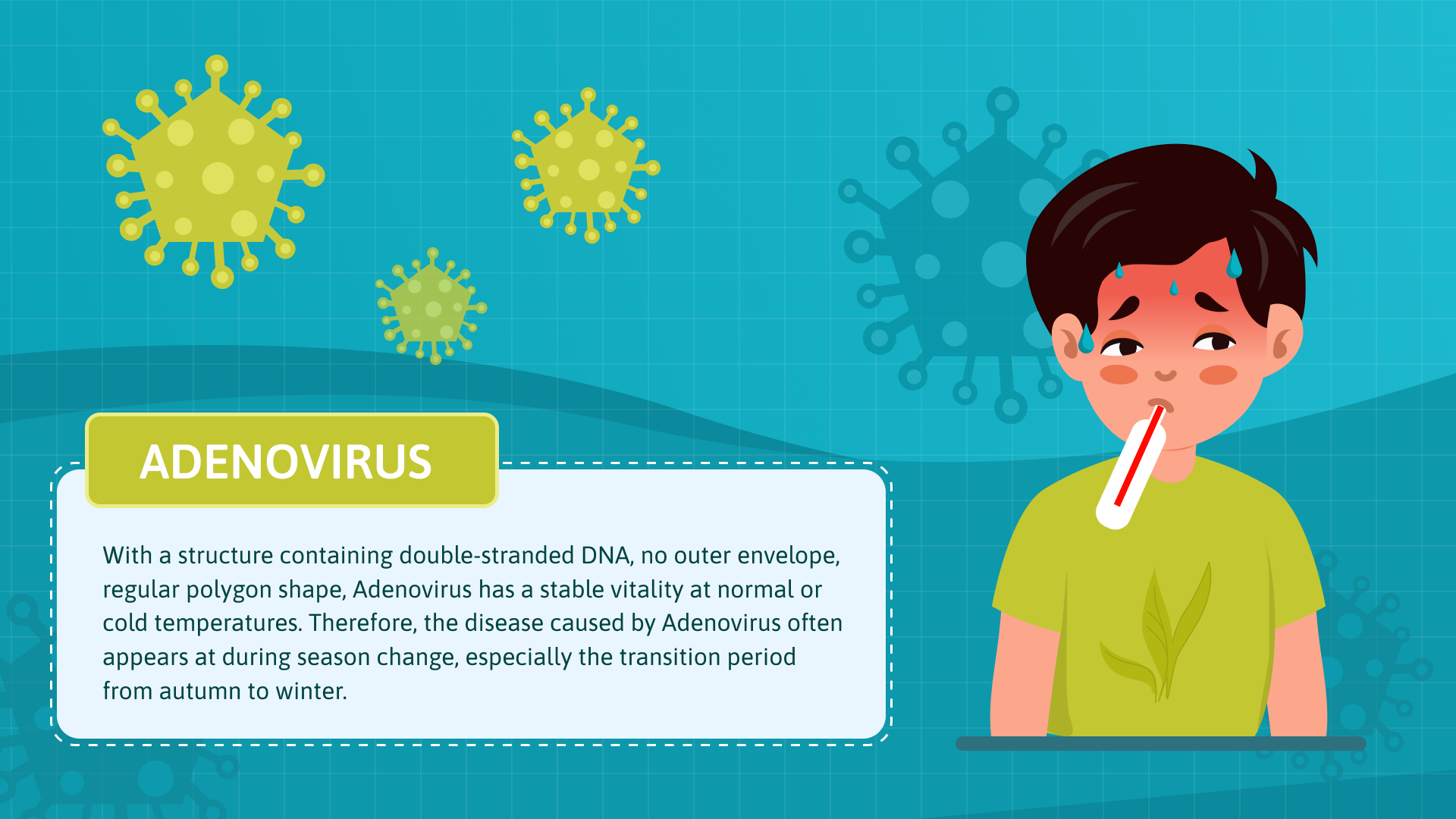 Adeno virus often appears during season change, especially transition between autumn & winter
- Adeno Virus was first discovered in 1953 from the amygdala circuit in the human body.
- With a structure containing double-stranded DNA, no outer envelope, regular polygon shape, Adenovirus has a stable vitality at normal or cold temperatures. Therefore, the disease caused by Adenovirus often appears at the time of season change, especially the transition period from autumn to winter.
- This virus can survive and cause disease for a long time in the outdoor environment, at room temperature can survive for about 30 days, 40 degrees Celsius can live for many months, -200 degrees Celsius can survive for many years;
- However, the virus can be killed by ultraviolet rays and boiling water at 100 degrees Celsius. The virus loses its virulence quickly and dies at 56 degrees Celsius in 3-5 minutes.
What are symptoms of Adenovirus infection in children?
Typical symptoms in children when being injected of adeno virus
If detected and treated early, adenovirus will not be a cause for concern. The disease only causes symptoms such as sneezing, runny nose, fever... However, these symptoms are easily confused with the common cold, so we often neglect treatment. As a consequence, patients have to face very high fevers accompanied by chills, wheezing, even pneumonia, respiratory failure... life-threatening.
Besides lesions in the upper respiratory tract, patients also have conjunctivitis (pink eye), diarrhea, vomiting, dehydration, cystitis, encephalitis, and meningoencephalitis.
How is the transmission of Adeno virus?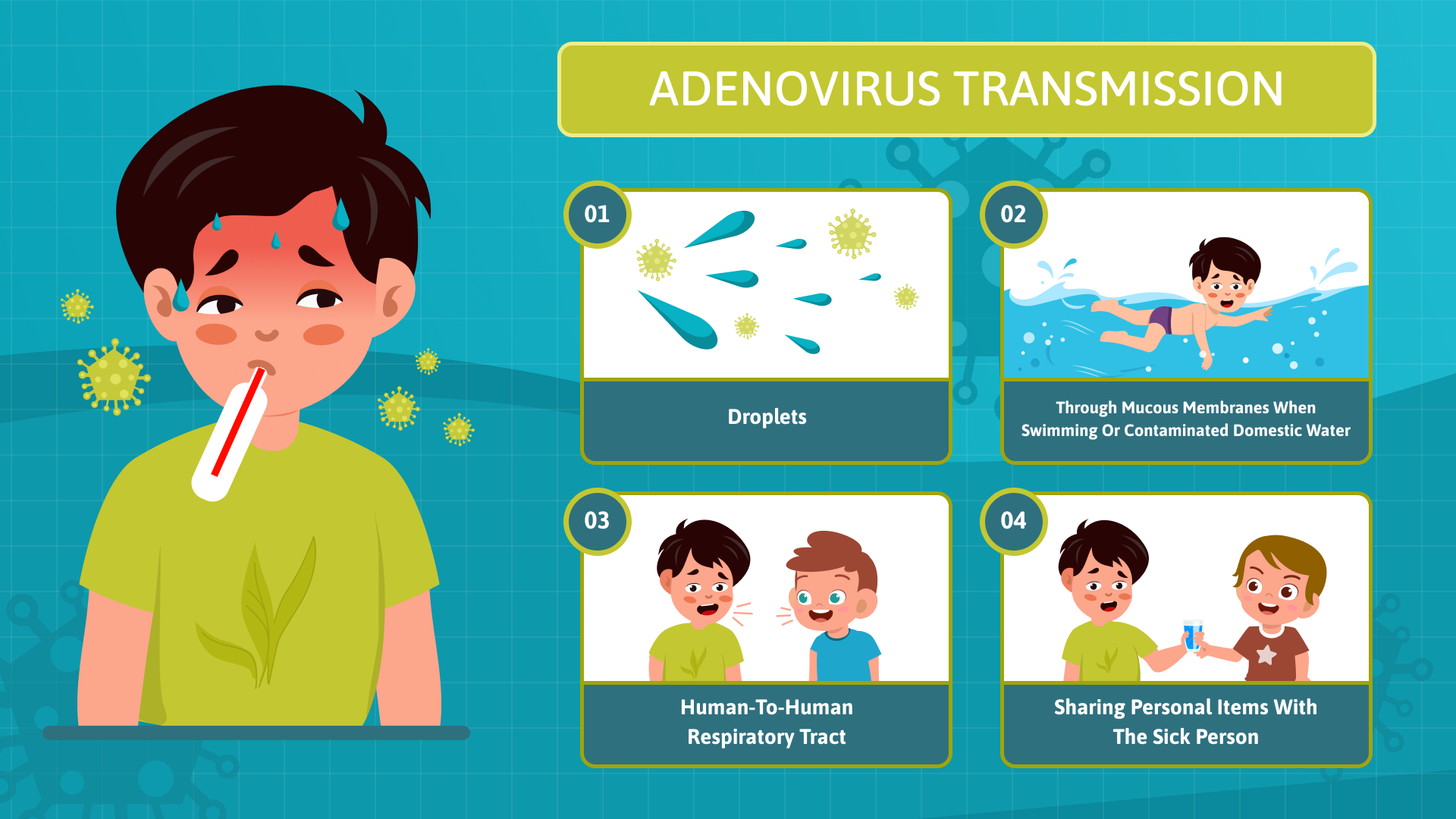 Typical tranmission ways of Adeno virus are through droplets or human-to-human respiratory
How is Adenovirus treatment in children?
Currently, there is no specialized treatment for Adenovirus. Children infected with adenovirus will be isolated in a separate hospital room. Treatment is by treating symptoms combined with improving the body's resistance and supplementing with vitamin C. If treated properly, children can recover from the disease after a few days. However, for children with infection problems such as pneumonia, conjunctivitis ... it can last 1 week or more.
Treatment by symptoms in children by:
• Let your child take plenty of rest;
• Drink a lot of water;
• Take Acetaminophen if fever bothers your child;
• Clean the nose regularly with a humidifier, nebulizer or saline nasal drops to improve symptoms of nasal congestion in children, helping them to breathe easier;
• For infants and young children suffering from vomiting/diarrhea or cannot drink enough fluids, treatment for dehydration should be instituted.
• For infants (especially newborns and premature babies), children with weakened immune systems, children with severe adenovirus infections may need respiratory support, such as oxygen or mechanical ventilation, antibiotics in cases of pneumonia.
<Reference: Website of CDC & local clinics/hospitals>.
Currently, TM Care – the specialized healthcare insurance by Tokio Marine Insurance Vietnam has provided protection for people suffering from Adenovirus without any waiting period.

- If an individual is infected with Adeno virus after joining the TM care insurance policy, they will be insured immediately without waiting;
- Children infected with Adeno Virus can enjoy all benefits up to the maximum limit in the selected insurance package including cost of room/ board, medicine during treatment, cost of surgery, expenses for pre-/post-hospital treatment, emergency transportation, home nursing care, outpatient examination and treatment costs, etc.
- Direct billing service in case of inpatient treatment.

For further consultancy of TM care insurance program, kindly contact TMIV via the hotline 0888336515.